WE'RE IN THE PLAYOFFS EVERYBODY!! YES!! WE'RE IN!!!!
Ha! Absolutely out of everybody's mind.
Ketika tim yang sudah mengirim pemain – pemain terbaiknya keluar kota, dan bahkan belum setengah musim aja sudah babak belur, kini bakalan punya kesempatan mencoba – coba menurunkan 'King' James dari tahtanya di postseason.
16-30, angka itulah yang menunjukkan jumlah win-loss Celtics sebelum 2 Februari, now they have 40 wins and sitting nicely among NBA best teams since then. Yap, dengan catatan 24-12 sejak 2 Februari Celtics duduk di peringkat kedua tepat dibelakang Cavaliers dalam persentase menang-kalah di East. Finish dengan best division record (12-4), 6 games winning streak, dan dengan hanya 2 games below .500 (40-42), Celtics memantapkan dirinya untuk bersiap menghadapi playoff pertama di era Brad Stevens. Raise your hand if you've thought this would happen in the end….. me neither.
Your 2015 Playoffs First Round Schedule everybody
I know East is……um……whacky. But knowing Heat isn't heading to the playoffs & NYKnicks is sitting at the bottom of the East standings feels so much better about it. Besides, Celtics masih berada di playoff lho apabila top-16 team yang maju ke playoffs. What a season this is. Dan juga ditutup dengan cantik dengan kemenangan atas Bucks dimana Isaiah Thomas, Bradley, dan Jae Crowder tidak bermain sementara Gigi Datome (yes!) menjadi starter untuk pertama kali dalam karirnya serta mencatatkan career-high 22pts!
Props to Brad Stevens for keeping this team together in the right direction and all the players who have working their asses off to get in here, terutama Isaiah Thomas. Man… Isaiah Thomas has been the blessing for us all celtics fans, akhirnya kita punya closer lagi semenjak dikirimnya Paul Pierce 2013 lalu ke Brooklyn Nets.
–speaking about Paul Pierce, he's going to retire after next season. It's on ESPN article : Wizards' Paul Pierce speak the truth if y'all haven't read it. He also speaks about his season with Nets, so glad that him & KG not there anymore.–
Back to Isaiah Thomas. Sebelum Danny Ainge berhasil mendatangkan Isaiah Thomas dari Suns, saya mencatat bahwa record Celtics adalah 20-32, Isaiah bagaikan berkah yang datang pada semua fans Celtics yang semakin haus dan lapar akan legit future player di 'rebuilding' season seperti ini. 2x player of the week, 6th man of the year candidate, what a blessing.
Seperti yang dilansir Ainur Rohman (Jawa Pos, 15/4) :
'Tidak ada yang mengatakan Thomas sebaik Rajon Rondo, ikon Celtics yang dilepas ke Dallas pada 18 Desember lalu. Baik dalam memberikan assist atau mencetak angka. Namun Thomas memang lebih cocok untuk tim Celtics sekarang ketimbang Rondo.'
Agree with you mas Ainur (not on the scoring part though), nobody said Thomas is whole lot better player than Rondo. Rondo adalah pemain dengan banyak sekali hal – hal luar biasa dalam permainannya, tapi hanya saja dia lebih cocok dan efektif ketika berada pada tim yang setidaknya punya 2-3 pemain produktif dan konsisten untuk bermain di sampingnya (Big Three era, remember?). Sementara kondisi tim Celtics saat ini? Boro – boro, si Isaiah Thomas-lah si produktif dan konsisten yang celtics desperately need.
Don't get me wrong here, i know banyak pemain – pemain celtics selain Isaiah yang bisa step up dan bermain sangat asoy, hal ini sudah seringkali terbukti sebelumnya. Mulai dari Avery Bradley, Marcus Smart, Evan Turner, Tyler Zeller, Jae Crowder, hingga Gigi Datome (!!!). Namun pemain – pemain ini seringkali mendingin setelah 3-4 pertandingan selanjutnya. Kesimpulannya tim ini punya potensi untuk produktivitas, sedangkan konsistensi masih hanya sebuah harapan. So is Thomas is the right subtitute for Rondo in this Celtics team? definitely.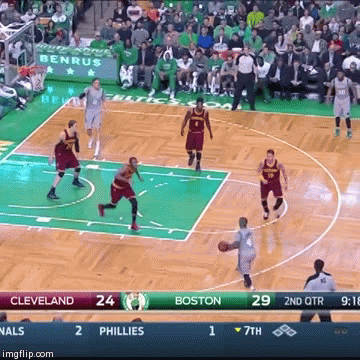 How can you not love him doing this Rondo-ish thing?
The most consistent performer in this team malahan bukan lain adalah Brad Stevens, The Freaking Mastermind, The ATO maestro, The f—— Brad-Stevens. He has been the success of Celtics since last season. Seperti yang dikatakan Ben Rohrbach of the WEII, para scout pernah menyatakan bahwa style coaching Stevens sedikit seperti Bill Belichick (Patriots coach, NFL), yakni mengubah – ubah skema permainan berdasarkan tiap musuh yang dihadapi. Hal ini mungkin cukup sulit dilakukan pada suatu musim dengan 82 pertandingan, tapi 7 game series mungkin lebih mudah. Itu kenapa saya cukup 'pumped' untuk melihat Brad Stevens memimpin timnya di Playoff , sangat sangat tidak bisa menunggu untuk mengetahui sihir apa yang dikeluarkan dia dalam menghadapi om LeBron & friends dan setidaknya memenangi lebih dari 1 pertandingan, bahkan memenangi satu series (delusional huh? so what?). Terlebih lagi, here's stats that make you more optimistic : Celtics are 21-37 (.362) in 1st 2 meetings vs. teams this season & 18-5 (.783) when facing opponents a 3rd or 4th time. Boom.
Records vs Cavaliers this season? 2-2, tapi records itu kurang berarti banyak sih mengingat 1x kalah pada saat masih ada Rondo & Jeff Green sementara 2x menang : 1. LeBron & Kevin Love gak main di kuarter 4; 2. Lebron & Love gak main blas; Kyrie gak main di keduanya.
Lebron last playoff game in cavaliers Jersey? Lebron mencatatkan 27 points, 19 rebounds, 10 assists, 3 steals, 1 block vs. Celtics, lose & eliminated , tahun berikutnya: 4th straight finals, 2x champ. Celtics created a monster, now we need to stop him.
Buat yang ingin nonton kumpulan buzzer beater & game-winning shot Celtics selama regular season, check this youtube video by KWAPT of the RedsArmy.
#LetsGoCeltics!