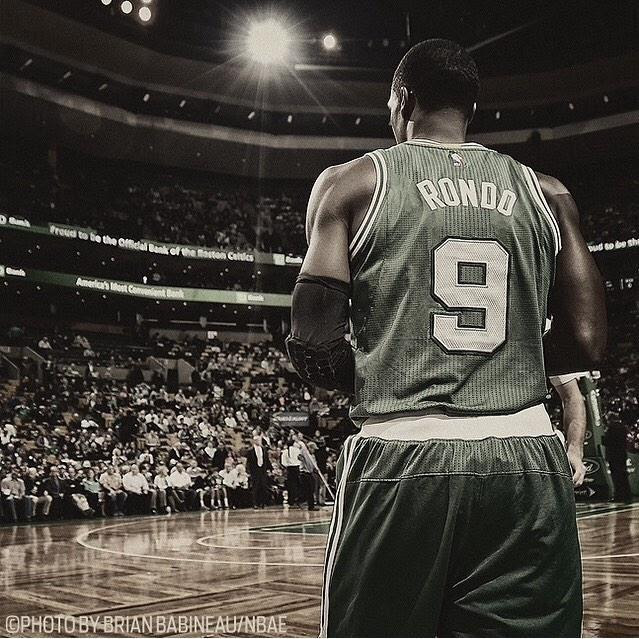 Thank you for EVERYTHING, Captain!
First, sorry untuk keterlambatan post ini, you know lah.. as a BIG Rondo fan, saya hampir gak percaya ketika terbangunkan di pagi hari oleh notification yang nggak saya sangka sama sekali : "Celtics Agree to Trade Rajon Rondo to Dallas Mavericks"
Jederrr, rumor tentang Rondo kini ternyata bukan hanya sekedar rumor seperti yang tiap tahun ada, rumor yang ini benar – benar terjadi, wow.
Here are the complete details of the deals :
Boston Celtics sent : Rajon Rondo, Dwight Powell.
Dallas Mavericks sent : Brandan Wright, Jae Crowder, Jameer Nelson, protected first-round pick (1-3 and 15-30 in 2015 and top-7 from 2016-2020, per Yahoo's Adrian Wojnarowski), and a future second-rounder.
My time in Boston has meant so much. I've grown up with this city both as a basketball player and person. The love I have for the most loyal and supportive fans in the league is unmatched. My teammates have shown nothing but heart the last couple of seasons. They are some of the hardest working guys I have played with and I wish them the best. I've experienced my most successful and challenging years w/ the Celtics, fans and city. The opportunity to play with guys like Dirk, Monta, Tyson and the young talent of Chandler is exciting and I look forward to building something special in Dallas. – Rondo on his Facebook & Twitter Page.
Walaupun sangat sedih, the truth is i'm not even mad at Ainge, saya tau pada momen Celtics gagal mendapatkan caliber player (read : Kevin Love) pada offseason lalu, Celtics bakal menghadapi jalan rebuilding yang lebih lama lagi dan memungkinkan untuk mengirim Rondo ke tim lain. Apalagi setelah Celtics memilih Marcus Smart pada draft night, asumsi – asumsi bahwa akan berakhirnya era Rondo semakin menjadi – jadi.
Jalur lain dalam rebuilding adalah melalui Free Agency, namun jika Ainge ingin mendapatkan caliber player lewat Free Agency kesempatan satu – satunya adalah dengan mempertahankan Rondo demi bisa menarik minat para big name FAs. Sayangnya hal itu memang penuh resiko, dengan habisnya masa kontrak Rondo di 2015 nanti maka ada kemungkinan Rondo yang malah pergi dan Celtics tidak mendapat apa – apa, disamping itu salah satu syarat agar Rondo tetap disini adalah memberinya max contract sebagaimana yang telah ia minta sebelumnya. Tapi memberikan max contract kepada All-Star PG yang nampaknya (dalam pengamatan saya) belum kembali bermain 100% selepas dari cedera ACL-nya sepertinya susah untuk dilakukan dari segi bisnis, dari segi fans yang mengutamakan terlangsungnya terus legacy Rondo ya jelas : give him max!
"It was hard. Yeah, it was very difficult to move Rajon," Ainge said. "I know it's a business in professional sports, but you really develop a lot of close relationships and I loved watching Rajon, I loved visiting with him, our one-on-one conversations were fun, entertaining, frustrating sometimes. And always a surprise." "The guy was a very unique person. But watching him grow and watching him develop as a man and as a person and as a basketball player, I just enjoyed my interactions with him. It was an emotional time as we met last night. It was not an easy thing to do. But I believe it was the right thing to do."
The sad truth is, interview terakhir Rondo semasa masih menjadi pemain Celtics adalah membicarakan tentang keinginannya untuk stay di Boston, but even sadder, there are nothing left from Celtics 2008 championship right now, tahun dimana saya pertama kali terpesona dan cinta pada basket karena menonton video – video Celtics, lalu 2010 Finals yang pada saat itu selalu numpang menonton di rumah saudara, dan semenjak itu tidak bisa lagi melewatkan apa saja yang terjadi pada Celtics. They're right, Celtics is not just a team, it's a way of life.
Rondo finish karir Celtics-nya dengan duduk di peringkat 4 all-time assist & peringkat 2 all-time triple double di Celtics franchise. Di pertandingan terakhirnya dengan Celtics, Rondo mencetak hampir triple double dengan 13 poin 15 dan 7 rebound di kemenangan besar Celtics atas Magic 109 – 92, dan saya mengumpat pada diri saya pada jum'at kemarin ketika tahu Rondo di trade ke Mavericks karena saya melewatkan pertandingan terakhirnya itu hanya karena bangun kesiangan, FML!
Anyway, there's always silver linings from anything happened. Dari trade ini? Cap space Celtics memasuki offseason 2015 akan menjadi sangat fleksibel, Assets terutama draft pick (lagi – lagi) tambah banyak, dan i'm really excited of apa yang Marcus Smart bisa lakukan ketika Rondo sudah tidak membayanginya lagi.
Let's hope for the best ya buat Celtics kita ini, Danny Ainge gak mungkin merusak tim ini, perasaan saya sih, sebelum trade deadline februari mendatang, bakal ada lagi trade – trade yang akan terjadi.
Celtics Upcoming Draft Picks
Fun Fact : Per sbnation, sejak 2007 Rondo sudah berada dalam 30 trade rumors dan akhirnya hanya 1 yang benar – benar terjadi.
Serious question: Do you think Celtics will retire his number #9?