2 games, 2 losses, meaningful experience.
Yep,mungkin kata kata itulah yang tepat menggambarkan 2 pertandingan celtics minggu ini. Kesalahan utama mereka di kedua pertandingan melawan Thunder dan Cavs sebenarnya hampir sama : blowing up big leads. Ya memang sebagai tim muda hal – hal seperti itu biasa terjadi, cuma kalau ingin masuk playoffs, Brad Stevens harus berpikir bagaimana agar tim muda ini mampu menjaga keunggulan dan gak mulu – mulu biarin musuh ngejar ketertinggalan.
Celtics 94 – 109 Thunder, 12 November
Walau Celtics membuka pertandingan melawan Thunder ini dengan keunggulan 18-3 dan bermain brilian di paruh pertama, tapi duo Thunder sukses melibas Celtics di 2nd half dan memenangi pertandingan. Eits tunggu dulu… Duo Thunder disini yang saya maksud bukan Russel Westbrook & Kevin Durant, melainkan malah Reggie Jackson dan Anthony Morrow, wow. Defense Celtics lah memang yang menjadi masalah di kuarter 3 dan 4, mereka seperti membiarkan semua pemain Thunder lebih mudah memasukkan poin. Dan zone defense Thunder memang sepertinya membuat para pemain Celtics kebingungan.
Oiya, di pertandingan ini Rondo juga hampir sekali mencetak triple double dengan 20pts (season-high),  12ast, dan 9 rebound.
Celtics 121 – 122 Cavaliers, 14 November
A little bit frustating game it is.
Sebenernya permainan Celtics bener – bener asik lho, terutama 42 poin yang Celtics hasilkan di kuarter 3. Tapi permainan indah ini hanya sampai di 10 menit akhir pertandingan dimana Celtics masih memimpin 18 poin. Tapi sejak saat itu LeBron James & Kyrie Irving (& refs, smh) mulai mengambil alih pertandingan, dan akhirnya hal ini memucuk di keunggulan cavs 122 -121 di 7 detik tersisa. Bola saat itu ada di tangan Celtics, dan saya berharap dan menebak – nebak apakah Jeff Green akan buzzer beater 3pt lagi di depan LeBron, tapi malahan, Rondo pikir dirinya Paul Pierce dan melakukan isolation play, hasilnya? Rondo faked, and the buzzer rang before he even shot the ball.
Di kedua pertandingan ini, Jared Sullinger selalu mencetak double – double (14-11 & 19-10)
Just so you know, sejauh ini Jeff Green selalu mencetak 14 poin keatas, tidak pernah di bawahnya, sedangkan musim lalu, sering sekali dibawah 10 malah
Di pertandingan lawan cavaliers, Rondo mencatat 16 assist di 3 kuarter pertama, di kuarter 4? Nol!
LeBron mencatat season high 41 poin di pertandingan lalu
Marcus Smart ( Sprained Ankle, Out for 3 weeks)
Marcus Thornton absen karena cedera di pertandingan lawan OKC, tapi sudah bermain di pertandingan lawan Cavs
WTF Rondo? ( Rondo ISO at final 7 seconds of Celtics – Cavs game)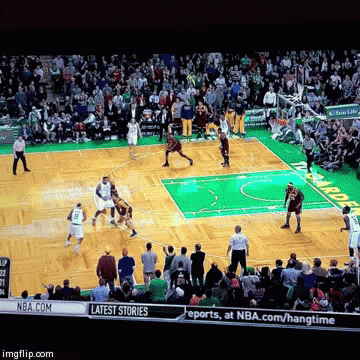 Rookie James Young & Dwight Powell assigned to Maine Red Claws (D-League)
"I think he wants to stay here. We talk on the regular, and I think he should stay. If I was him, I'€™d stay." – Kendrick Perkins on Rajon Rondo
Yap, teman terdekat Rondo semasa Perk masih ada di Celtics ini akhirnya memberikan pendapatnya soal apakah Rondo harus memilih tetap berada di Celtics. Dan bagaimana reaksi rondo terhadap pendapat Kendrick Perkins itu? He agreed!
"That's about accurate," katanya "From Media Day in the beginning, that'€™s what I said initially, so … my perspective hasn't changed, and I love being a Celtic."
🙂
Minggu depan Celtics akan berhadapan dengan Suns, winless 76ers, dan Memphis Grizzlies, kayaknya Celtics bakal dapat kemenagan nih..