"With the 6th Pick in the 2014 NBA Draft, The Boston Celtics Select…MARCUS SMART"
Blarrr…
Tiba – tiba saja di benak saya langsung muncul permasalahan tentang masa depan Rondo bersama Celtics, sebagaimana banyak fans sudah berspekulasi bahwa men-draft Smart berarti berakhirnya era Rondo sebagai Point Guard Celtics. Untungnya saja beberapa saat setelahnya Wyc Grousbeck menyatakan bahwa keputusan ini tidak ada kaitannya dengan masa depan Rondo, fyuh….
But here it is, Marcus Smart Profile :
Name                : Marcus Smart
Age                   : 20 years old
Height                : 6′ 3″ (190 cm)     
Weight               : 226 lbs (102 kg)  
Wingspan           : 6′ 8″ (203 cm)
Position              : Point Guard
Twitter Handle    : @smart_MS3
2013 – 2014 Statistics – Oklahoma State Cowboys
PPG 18.0       FG% 42.2
RPG 5.9        3PT% 29.9
APG 4.8        FT% 72.8
STL 2.9         MPG 32.7
BLK 0.6
————–
KELEBIHAN
– Defense & Versatility
– Agressiveness
– Finishing
– Court Vision
– Scoring & Facilitating teammates
KEKURANGAN
– Volume shooting accuracy
– Shot selection
"He's a fun player to watch. He gets the juices going. He's a passionate player… he's a very versatile player." – Danny Ainge on Marcus Smart
Bukannya saya tidak menyukai pilihan ini, bahkan saya sangat suka gaya bermain dari Marcus Smart, semangat membara dan spiritnya sangat cocok di NBA. Hanya saja kini Celtics memiliki 3 starting guard dalam daftar rosternya karena talenta Marcus sangat disayangkan jika hanya menjadi seorang backup. Saya pastinya tidak mau jika Rondo harus di trade dan saya juga perlahan mulai menyukai Avery Bradley semenjak akurasi tembakannya mulai berkembang. Sayang sekali, injury prone adalah masalah utama Bradley, ia melewatkan 22 pertandingan di musim ini karena cedera yang datang dan pergi. Walaupun Ainge tadi sempat berkata bahwa kombinasi rotasi Rondo, Smart, dan Bradley sangat memungkinkan, namun prediksi saya sih… Bradley akan angkat kaki dari Celtics. Sedih, iya. Tapi berita baiknya adalah…
Kombinasi dua PG untuk backcourt sebuah tim mungkin memang terdengar sedikit aneh, 2 ballhandler ada disaat bersamaan. Sebenarnya tidak, saya selalu teringat kesuksesan Suns mencomblangkan Goran Dragic dan Bledsoe di starting backcourt mereka. Semoga saja combo Rondo dan Smart bisa menjadi tandem Celtics untuk menuju ke Banner 18…
Tinggal kali ini yang perlu diperbaiki dari Smart jika ia akan bermain pada posisi SG di samping Rondo adalah persentase shootingnya. Sebagaimana kalian tahu, ia tidak terlalu baik dalam menjadi volume shooters (3PT% hanya 29.9). Dulu Bradley juga memiliki persentase buruk, tapi setelah di bantu Ron Adams, akhirnya hal itu mampu membaik. Namun kini Ron Adams sudah menerima pekerjaan di GSW, semoga saja ada yang lain yang mampu membantu Marcus Smart.
Link – Marcus Smart 2014 NBA Draft Workout
17th pick of the 2014 NBA draft, James Young
Name                 : James Young
Age                    : 18 years old
Height                 : 6′ 7″ (200 cm)     
Weight                : 213 lbs (96 kg)  
Wingspan            : 7′ 0″ (213 cm)
Position               : Shooting Guard / Small Forward
Twitter handle      : @realjamesyoung
2013 – 2014 Statistics – Kentucky Wildcats
PPG 14.3       FG% 40.7
RPG 4.3        3PT% 34.9
APG 1.7        FT% 70.6
STL 0.8         MPG 32.4
BLK 0.2
————–
KELEBIHAN
– Shooting (walau 3PT% hanya 34.9%, menurut para scout ia memiliki potensi yang sangat baik)
– Cutting & Slashing
– Size
KEKURANGAN
– Defensive awareness
– Lateral Quickness (untuk slide defense)
– Ball handling
– Rarely use right hand
James Young, wow. Sejujurnya saya sangat suka dengan pilihan ini. Bahkan beberapa analyst dan writers mengatakan bahwa mendapatkan James Young di pick nomor 17 adalah sebuah 'steal'. Ia memang tidak mengikuti workout di akhir karena mengalami kecelakaan mobil, tapi performanya di NCAA sebenarnya cukup memuaskan. Dia adalah seorang SG yang memiliki ukuran fisik seorang SF. Mungkin jika dipoles kembali ia mungkin dapat mengambil tempat Jeff Green dalam posisi starting SF. Hanya saja defense masih saja menjadi masalahnya yang utama, selama bermain di Kentucky Wildcats ia sering kali kelewatan pemain musuh dan menyebabkan easy point. Namun di sisi offense, ia tampil sangat prima, mungkin kalian pernah dengar dan melihat saat ia melakukan dunk terhadap beberapa pemain dari UConn, that's pure awesomeness. Jika kalian belum pernah melihatnya,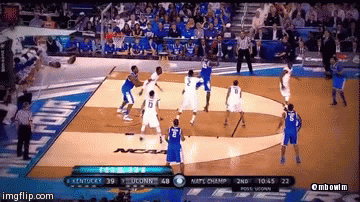 Untuk Draft tahun ini oleh Celtics hasilnya cukup baik. Tinggal yang tersisa adalah mendapatkan pemain lain melalui free agencies dan trade. Jika kalian merasa Celtics cukup "diam" dalam offseason ini, tenang saja, free agencies dimulai dari 1 Juli dan kesempatan untuk melakukan trade masih panjang. Which means, kita masih bisa mendapatkan Kevin Love! Tapi dengan mendapat Marcus Smart dan James Young saja saya sudah cukup tenang. Oiya, untuk masalah rim protector, Omer Asik sudah di luar radar karena sudah ditrade ke Pelicans, hingga menurut saya best choice saat ini adalah mencoba peruntungan untuk Greg Monroe atau Marcin Gortat.

"There's been a lot of conversations. There were a few tempting conversations, but nothing better than we were able to accomplish." – Danny Ainge Soal Trade
Grade Celtics dalam draft ini menurut saya : A-