"We have everything to play for. We have pride. I have pride. We have pride as a team, Celtics pride. And right now we're not displaying that at all." – Rajon Rondo
Welp. At least akhirnya kapten kita meraih triple-double pertamanya season ini dan Phil Pressey akhirnya nge-dunk juga. Di game yang kita semua tahu bakal tidak mengasyikkan, percaya atau tidak tiket di TD Garden terjual sebanyak 18,624. This should make us proud as a Celtics fan.
Kuarter pertama berjalan sangat – sangat buruk untuk Celtics, mereka baru bisa menghasilkan poin setelah bermain 4 menit lebih lewat Layup Sullinger dimana saat itu Sixers sudah mendapat 9 poin. Celtics memiliki cukup banyak turnover di kuarter ini yaitu 7, lebih banyak dari total turnover Sixers keseluruhan. Walaupun Rondo berhasil mencatat 5 assist dan 6 rebound di kuarter ini tapi Celtics tertinggal 17 – 23 dari 76ers.
Kuarter 2 sebenarnya berjalan lebih baik dari kuarter sebelumnya. Credit to Jerryd Bayless & bench performance, dia mencatat  9 poin di kuarter ini dan beberapa assist, ia dan Kelly Olynyk sempat bertukar poin dan assist yang terlihat mengasyikkan sebenarnya di suatu saat di menit ke 8. Rondo akhirnya di 1:39 tersisa mencetak poin lewat 2 freethrow, ia sudah mengantongi 2 poin 9 rebound dan 9 assist hingga halftime. Celtics memimpin 51-49 saat halftime.
Sullinger memulai kuarter 3 di tempat Humphries, tapi permainan juga tidak bertambah baik di kuarter ini. Untungnya Rondo memberikan boost kepada offense Celtics lewat poin poinnya dan assist yang tampak tidak mungkin. Celtics tertinggal 5 poin menuju kuarter 4.
Kuarter 4 juga tidak cukup baik, tapi akhirnya setelah lama kita tunggu di menit 6:30 tersisa Phil Pressey akhirnya melakukan dunk (you read it right, HE DUNK IT) setelah men-steal bola dari Michael Carter-Williams. Di sisa pertandingan Celtics terus dikuasai Sixers hingga akhir, Celtics 102 – 111 76ers.
NOTABLE:
Rondo akhirnya mencatat triple-double pertamanya di season ini dengan 11poin 11rebound dan 16assist
Jerryd Bayless memimpin skoring Celtics dengan 23 poin, tapi field goalnya itu lho.. cumak 8-20
Total turnovers Celtics 22, Sixers? 4.
3pt field goal Celtics lagi – lagi sangat buruk, kali ini mereka finish dengan hanya 27% (9-33)!!!!!
MCW mencetak 24 poin 6 rebound 6 assist Sixers
Henry Sims mencetak 24 poin juga untuk Sixers. Do you even know who is this man? me neither.
BRIGHT SPOT:
Pressey 2 handed dunk!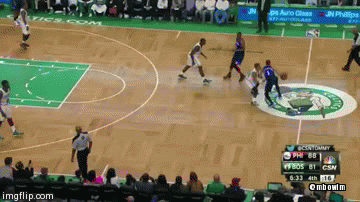 Walaupun kekalahan ini menjatuhkan harga diri Celtics mentah – mentah, tapi posisi Celtics dalam #TankWars sekarang menjadi di peringkat 4 sendirian, karena Utah Jazz menang melawan Pelicans. Pertandingan selanjutnya melawan Detroit Pistons di The Palace Besok (Minggu) jam 06.30 WIB. Rondo, Bradley, Humphries absen untuk pertandingan besok, so… siap siap untuk lihat Joel Anthony mendapat menit bermain. 6 games left guys!