"It was real hard (to watch). It's frustrating watching us play the way we played. That definitely was not Celtics basketball at all. It was kind of embarrassing." – Avery Bradley
Sama halnya seperti kita Bradley hanya bisa menonton di pertandingan ini karena cederanya. Tapi ia benar sekali, permainan yang sangat sangat….*deep breath*… sangat sangat buruk sekali. Mereka membiarkan Wizards dipastikan masuk playoffs (pertama sejak 2008) dengan cara yang sangat mudah. Wizards finish dengan high percentage shot yaitu 62,5%. Menurut Sean Grande terakhir kali Celtics membiarkan musuhnya mendapat persentase tinggi yaitu pada 15 Desember 2003 melawan Minnesota Timberwolves milik KG saat itu (62,8%).
Celtics tidak pernah memimpin sekalipun dalam pertandingan, paint defense mereka kali ini seperti kosong dan membuat Marcin Gortat tidak perlu bersusah payah untuk mendapatkan poin – poin mudah dalam paint. Untungnya Rondo memberikan sebuah energi di awal – awal pertandingan dengan memasukkan 10 poin di kuarter pertama dan salah satunya adalah signature move miliknya yaitu fake behind the back pass dan membuat Gortat tertipu mentah – mentah.
Walaupun Rondo sudah mencatat 5 turnover (7 total) hingga halftime, namun di sekitar akhir kuarter 2 Celtics sempat memotong ketertinggalan hanya tinggal 7 poin saja. Tapi Gortat dan John Wall kembali lagi dengan serangannya dan Wizards memimpin Celtics 57-46 saat halftime. FYI, Rondo adalah satu – satunya starter yang mendapat rebound di half pertama ini, Humphries memang sudah di bench kansejak 3 menit pertandingan karena nampaknya ia membuat kesal Brad Stevens, but…. where the f is Bass??!!
Di paruh kedua permainan menjadi jauh lebih buruk lagi bagi Celtics, mereka bahkan sempat tertinggal 33 poin di awal kuarter 4 setelah Al Harrington mencetak 3poin. Banyak sekali turnover yang dilakukan Celtics, untungnya Wizards banyak sekali melakukan fouls dan membuat Celtics total mencetak 25 kali free-throw. Celtics kalah 92 – 118 dari Wizards.
NOTABLE:
Jared Sullinger finish dengan 25 poin dan 4 rebound
Rondo mencatat 13 poin 7 rebound 6 assist
3pt field goal Celtics adalah 13%. Let that sink in.
Celtics mencatat total 14 kali turnover
 Jika kalian mungkin belum cukup puas, check this gif out (credit : Jay Oulette)
Welp. #Shaqtin
Pertandingan selanjutnya adalah melawan tim yang lebih buruk dari Celtics siapa lagi kalau bukan 76ers di TD Garden hari Sabtu pukul 06.30 WIB.
Extra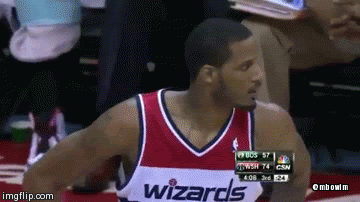 Di suatu saat di kuarter 3 Marcin Gortat meniru gerakan khas Rondo yaitu ikut nimbrung saat tim musuh lagi diskusi, atau mungkin…. dia sudah latihan untuk menjadi #futureceltic? Gortat jadi unrestricted free agent di summer ini btw.