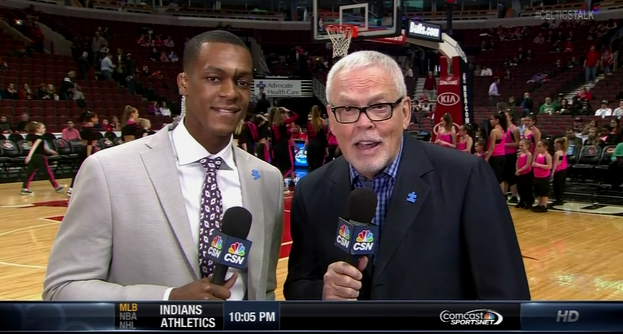 "I did it for the fans, I did it for my team. It's something different. Not a lot of guys do it currently while playing. I thought it would be OK to give it a shot. I wasn't playing a back to back, I was traveling with the team, so why not?– Rajon Rondo on being TV color analyst
Jika kalian melihat pertandingan dan mendengarkan komentator pertandingan selama fist half, how lucky you are. Ya, mungkin kalian sering mendengar Tommy Heinsohn dan Mike Gorman, dua great analyst yang selalu menemani telinga anda saat pertandingan berlangsung, tapi kini Rondo mendapat kesempatan untuk menjadi komentator (tidak bermain karena back-to-back games) di pertandingan Celtics melawan Bulls ini, sebelumnya dulu eks pemain Celtics Brian Scalabrine a.k.a 'The White Mamba' sempat mendapat kesempatan juga. It's pretty fun actually, walaupun menurut Jay King (writer Masslive) Rondo awalnya sedikit tidak nyaman -kalian tahu sepanjang karirnya ia mempelajari bagaimana bermain di lapangan tapi kali ini ia harus belajar bagaimana menjadi analyst play-by-play dalam pertandingan- tetapi kata – kata Rondo sangat pintar dan menghibur, seperti ia mengomentari coach Bulls Thibodeau, Mike Dunleavy, Jeff Green, dan banyak lagi. Selain itu ia juga sempat dijatuhi popcorn oleh maskot Bulls Benny the Bull. Untuk selengkapnya, kalian bisa membacanya di Boston Globe atau di Masslive.
Pertandingan ini berjalan baik di 3 kuarter pertama tetapi menjadi sangat burukdi kuarter 4 bagi Celtics. Joakim Noah (yes, this man again) lagi – lagi membawa Bulls menang 94 – 80 atas Celtics.
Sejak tip-off hingga halftime permainan Celtics cukup baik, bahkan mereka sempat memimpin 9 poin di kuarter 2 tapi hanya memimpin 2 poin saat halftime. Di kuarter ini kombinasi Phil Pressey, Chris Johnson, dan Kelly Olynyk sangat cemerlang, mereka bertiga mencatat 16 poin di kuarter ini dan mentenagai Celtics untuk melawan salah satu best defense team di nba. Sayangnya Avery Bradley pada kuarter 2 keluar dari pertandingan karena cedera ankle dan masih belum dipastikan berapa lama ia akan absen.
Kuarter 3 Celtics baru bisa memasukkan poin setelah waktu berjalan 4 menit lewat 3poin dari Jeff Green, untungnya Bulls juga tidak lebih baik. Phil Pressey melesatkan tembakan 3poin off the dribble di akhir kuarter 3 dan Bulls memimpin 70 – 71.
Barulah di kuarter 4 Bulls berada di level yang lebih tinggi. Celtics memulainya sama seperti kuarter 3, 4 menit tanpa poin sedangkan Joakim Noah dan Mike Dunleavy membawa Bulls memimpin 80-70. Akhirnya Kris Humphries mampu mencetak skor untuk Celtics dari assist Jerryd Bayless, tapi Joakim Noah terus menerus membawa Bulls lewat assist cantiknya kepada Taj Gibson dan poin – poinnya di akhir walaupun Jared Sullinger dan Bayless berusaha keras melawan balik. Celtics kalah 80 – 94 terhadap Bulls. Dan secara resmi di eliminasi dari playoffs race.
NOTABLE :
Brandon Bass is good! finsih dengan 18poin 9rebound 3assist dan 4 block (career high)
Jerryd Bayless juga mencetak 18 poin serta 5 assist
Di kuarter 4 Celtics hanya mencetak 10 poin, 8 dari Bayless dan 2 dari Humphries, lainnya? None!!
Joakim Noah 19poin 11rebound 5assist untuk Bulls
Mike Dunleavy 22poin 3rebound 3assist untuk Bulls
Seperti yang Mike Gorman katakan di akhir, Celtics officially eliminated from playoffs race.
BRIGHT SPOT :
Sepertinya tidak ada yang terlalu 'bright' dari permainan Celtics kali ini. But, It's Rondo vs Benny the Bull for you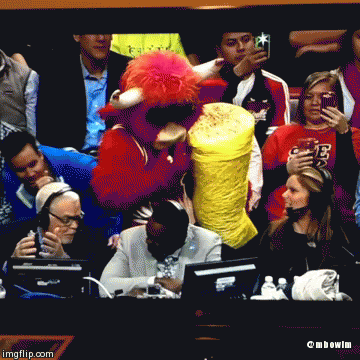 Reaksi Cedric Maxwell terhadap Rondo yang mengambil alih posisinya di half pertama, epic. (credit to : Jay Oulette)
Pertandingan selanjutnya melawan Washington Wizards di Verizon Center hari Kamis pukul 06.00 WIB. #itsallabouttheoffseason