"I just think we were out of rhythm on Wednesday night's game, and we found a rhythm in tonight's game and we did really well defensively and came out with the win." – Jared Sullinger
Sepertinya pertandingan ini cukup tidak meyakinkan di awal pertandingan. 4 turnover di awal tentu sangat membahayakan, untung Rondo kembali dengan aksi 3point shooting-nya yang perkembangannya semakin meningkat. Memberikan 13 poin 2 assist dan 5 rebound dan membantu Celtics memimpin 6 poin di akhir kuarter pertama. Tampil tanpa Kevin Garnett (cedera punggung), Brooklyn Nets juga tidak lebih baik dari Celtics, banyak 3point shooting yang tidak berhasil masuk dan mencatat 0 dari 17 3pt field goal saat halftime.
Kuarter 2 adalah kuarter paling baik bagi Celtics dalam pertandingan ini, para pemain bench mampu mengontrol pertandingan meski Rondo tidak dalam lapangan. Bahkan mereka sempat memiliki keunggulan 17 poin di kuarter ini, dan 5 pemain yang berada di lapangan adalah Phil Pressey, Bayless, Chris Babb, Olynyk dan Sullinger. Sayangnya, turnover Celtics terus bertambah hingga 13 saat halftime tapi untungnya bad shooting night oleh Nets lagi – lagi membuat Celtics unggul 53-41.
Kuarter 3 Brooklyn Nets sempat menunjukkan kegigihannya untuk mengejar poin, dan sempat mengejar ketertinggalan hingga hanya 3 poin, tapi Jared Sullinger menjawabnya dengan 3poin dan block shot terhadap Blatche di akhir kuarter dan Celtics memimpin 78 – 70.
Kuarter 4 nampak cukup buruk bagi 2 tim, dan banyak foul terjadi dimana – mana meski sepertinya tidak terjadi apa apa. Kelly Olynyk juga terkena foul out setelah memasang screen untuk Rondo yang menurut saya sebenarnya itu adalah clean screen. Di kuarter ini juga Celtics hanya mencetak 13 poin sedangkan Nets 14 poin. Celtics menang 91 – 84.
NOTABLE :
Rajon Pierre Rondo (Player of the game) mencatat 20 poin 9 assist dan 7 rebound. Our captain everybody!
Jeff Green mencetak 15 poin dari 55% field goal.
Celtics melakukan total 28 turnover, 28!!

Untungnya

mereka masih dapat memenangkan pertandingan ini, thanks to Nets' 13% (4 dari 30) 3pt field goal.
Paul Pierce di pertandingan kedua di Boston setelah trade hanya mencatat 10 poin. Ini adalah pertandingan terakhirnya season ini di Boston. (Kalau Celtics tidak masuk playoff, dan kemungkinannya sangat kecil)
Rebounding : Celtics 51 Nets 28
Injury Update : Vitor Faverani dipastikan tidak akan kembali season ini.
BRIGHT SPOT :
Pretty insane dribbling skills from Rondo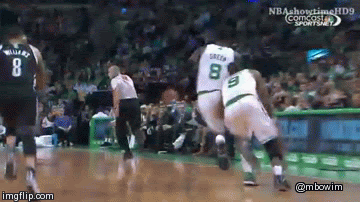 Paul Pierce said he'd consider playing for Celtics again. "Why not? Play for them, work for them … who knows what the future can bring." 
Let that sink in folks.
Sejujurnya saya berpikir bahwa Paul Pierce memang sebaiknya mengakhiri karir NBA-nya bersama Celtics, minimal mungkin Danny Ainge bersedia untuk mengkontraknya 1 hari (kalau bisa hehehe) hanya untuk pengumumannya pensiun.
Pertandingan selanjutnya melawan Detroit Pistons masih tetap di TD Garden hari senin pukul 05.00 WIB.
Extra
*Saat melihat gambar ini saat streaming di HH saya, langsung reflek saya menscreenshotnya, idk i just like this action by fans more than if it's done when Pierce is still playing for Celtics..